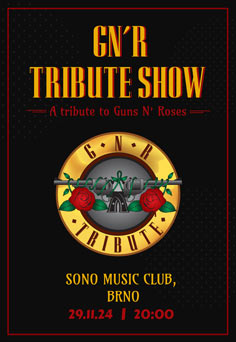 GN' R TRIBUTE SHOW BRNO
Sono Centrum Brno , Veveří 113, 616 00 Brno-Žabovřesky
890.00 - 1390.00
Buy Ticket
12+
GN'R TRIBUTE are paying their dues to one of the best rock bands in the world – GUNS N' ROSES!
You know the vocals! You recognize the bandana and the top hat! You know the sound! You've heard all the wild stories of the rock 'n roll band that conquered the world and threw it all away in a multitude of sex, drugs, women, and anarchy. Guns N´ Roses are rock 'n roll legends, PERIOD.
GN'R TRIBUTE is a Tribute to one of the greatest rock bands ever. Their 1987 debut album "Appetite for Destruction" is the best-selling debut album in rock history with over 33 million albums sold globally.
When GN'R TRIBUTE hits the stage to honor the originals, you will know that these guys really love the music! GN'R TRIBUTE gives you a completely authentic experience of Axl, Slash, Duff, and the rest of the band. All the classics are performed with skill, passion, love, and respect. So, if you close your eyes: you can feel the rush all the way from Hollywood. GN'R fans are not shy to compare GN'R TRIBUTE to the original band in their prime!
Event
Date and time
Location
Ticket price
GN' R TRIBUTE SHOW BRNO
Fr 29.11.2024 20:00
Sono Centrum, Brno
890.00 - 1390.00
Buy Ticket
The online shop service fee in the amount of 0.00 Kč has been added for each ticket.
Sono Centrum
Veveří 113, 616 00 Brno-Žabovřesky
Brno, Czech Republic