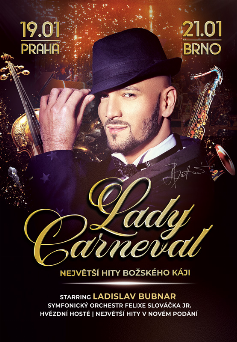 LADY CARNEVAL - Největší hity božského Káji
Congress Centre Prague Prague , Kongresové centrum Praha
1090.00 - 1690.00
Buy Ticket
6+
Ladislav Bubnár and the orchestra of Felix Slováček jr., star guests and the greatest hits of the divine Káji in a new performance. This is LADY CARNEVAL a Největší hity božského Káji 19.01.24 from 20:00 in the Congress Centre, Prague.
Hits like I'll sweeten my coffee, I'll give you a cannon shot, Where's your bird's nest, Bells of happiness, When a bell rings from the mountains, or Lady Carneval will be performed on November 16 at a concert in the Prague Congress Center. The name of the unique concert LADY CARNEVAL a Největší hity božského Káji, inspired by the last mentioned song, is the work of the singer Ladislav Bubnár, who himself, a multiple-time golden nightingale, declared that he has a beautiful voice.
The greatest hits will be heard from his mouth in a modern, fresh style. The audience will be treated to a musical treat accompanied by Felix Slováček Jr.'s orchestra, complete with lighting effects and a modern stage that will correspond to the concept of the entire concert.
Read more
Event
Date and time
Location
Ticket price
LADY CARNEVAL - Největší hity božského Káji
Fr 19.01.2024 20:00
Congress Centre Prague, Prague
1090.00 - 1690.00
Buy Ticket
The online shop service fee in the amount of 0.00 Kč has been added for each ticket.
Congress Centre Prague
Kongresové centrum Praha
Prague, Czech Republic