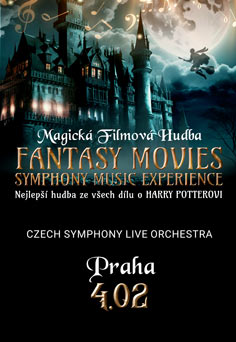 Fantasy Movies Symphony Music Experience Praha
Congress Centre Prague Prague , Kongresové centrum Praha
890.00 - 1890.00
Buy Ticket
6+
FANTASY MOVIES Symphony Music Experience - nejlepší hudba ze všech dílu o Harry Potterovi
Koncert magické filmové hudby "FANTASY MOVIES Symphony Music Experience» nejlepší hudba ze všech dílu o Harry Potterovi je zpět s novým a jeste vetsim magickym show koncertem od 03. února 2024 budete mít příležitost si užít skvělou událost vytvořenou specialně pro fanoušky filmové hudby a znalce symfonické hudby. Diváci budou mít možnost slyšet naživo nejlepší skladby ze všech filmů o nejslavnějším kouzelníkovi světa v podání filmového symfonického orchestru. Součástí je projekce na plátně, inspirované ze vsech dílu o Harry Potterovi. Pouze v těchto dnech se návštěvníci koncertu vydají na hudební cestu do kouzelného světa plného magie a neuvěřitelných dobrodružství, kam se Vám bude chtít znovu a znovu vracet.
Congress Center, Prague 04/02/2024
Read more
Event
Date and time
Location
Ticket price
Fantasy Movies Symphony Music Experience Praha
Su 04.02.2024 20:00
Congress Centre Prague, Prague
890.00 - 1890.00
Buy Ticket
The online shop service fee in the amount of 0.00 Kč has been added for each ticket.
Congress Centre Prague
Kongresové centrum Praha
Prague, Czech Republic